Ai ref generic images
From Vassal
AutoImage Reference Manual
AutoImage > Reference > Auto Images
Auto Images
The Auto Images component is the holder for the different parts of the AutoImages system. It has no properties of its own.
Sub-Components
Named Colors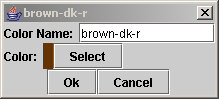 Each color you wish to use in Image Definitions is predefined and given a name. 14 Standard colors defined by Java are built-in and can be used without defining them:- CLEAR, WHITE, BLACK, LIGHT GRAY, DARK GRAY, RED, GREEN, BLUE, ORANGE, PINK, CYAN, MAGENTA, YELLOW.
Color Name: The name of the color that will appear in drop-down menus in the Image Definitons.
Color: Standard Color selector to select the color to be associated with the name
Font Styles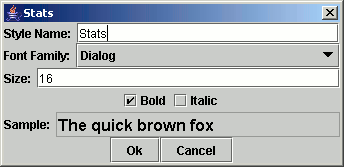 Font Styles used in Image Layouts are predefined here and selected by name from drop-down menus. A Font Style consists of a Font Family, size and style (plain, bold, italic, bold-italic). An AutoImage will always contain at least one font style - Default.
Style Name: The name of the Font Style that will appear in drop-down menus in the Image Layout.
Font Family: The Font Family to use. To ensure maximum compatibility and portablilty, only the pre-defined Java logical fonts are available as options.
Size: The size of the font style in points.
Bold: Click on to select a Bold font style.
Italic: Click on to select an Italic font style.
Sample: Display a sample of your selected font style.

Image Layouts
Image Layouts define how the counters will look.