Continue to Taking the Tour
Installation
Below is a step by step guide for installing and then launching your first VASSAL module. We'll also explore some of the basic things to do once you've loaded a module.
1. First, you will want to make sure that you have the latest version of JAVA installed. (VASSAL version 2.9 and earlier can be run using Java 1.4. Later versions require Java 5.0+) Click HERE or the button below to go to the JAVA website. Once over there, follow the buttons that look like:


2. Once JAVA is installed, hopefully with no problems, you'll next want to get VASSAL installed. You have two options: use the Web Start launcher below or manually download from HERE. Manual downloading will provide the latest version of VASSAL while the last supported version of VASSAL that Web Start's is 3.0.17. The Web Start launcher can be run from outside your browser via a desktop shortcut, but some people's systems have trouble setting it up correctly. In the case of a manual download, you can choose among any past version of VASSAL.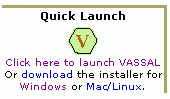 Depending on which browser you are using, you will get an option to either (Firefox):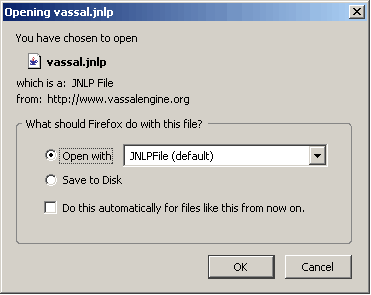 Or the download will begin immediately (Internet Explorer):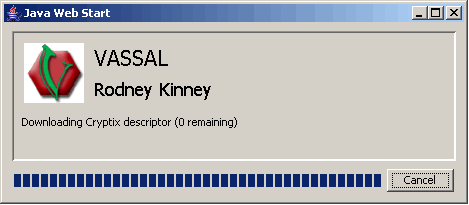 You may get a message about a "Security Certificate":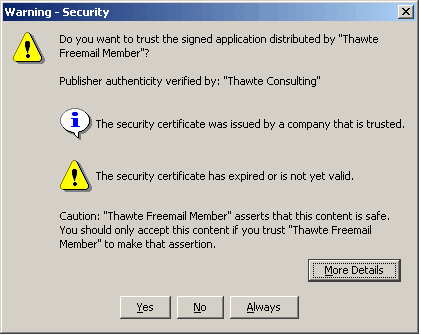 Click "Yes" to accept, or click "Always" and you'll never see this again (for this application).

Once the files have been downloaded, you will be prompted to add a shortcut to your desktop:


Go ahead and select "Yes", you can always clean up your desktop later.  :)
Next, VASSAL will install some documentation into your home directory. The exact location is system dependent (e.g. in C:\Documents and Settings for most versions of Windows). The online help for VASSAL will open browser windows that point to the installed documentation
Congratulations, VASSAL is now installed!
---
Continue to Taking the Tour
Table of contents
Installation
Taking the Tour
Connecting to the server
Adding new modules
Loading a module/basic controls
Pbem - making a LOG file
Setting your preferences