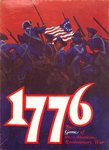 Files
Module Information
| | |
| --- | --- |
| Maintainer | Davey Jones |
| Contributors | PRodgers, JokerRulez, jw62, Davey Jones, scotty |
Comments
Doing a rework of the 1776 module ... Scott
10 AUG 2011 v0.3 FILE SIZE:10.5MB
Return to deck button for Tactical Cards.
New Masks for tactical cards. Now the player and the opponent see different mask image.
Added a US/UK flag to Tactical cards.
Added a label to Tactical cards.
Forts now use CTRL-F for flipping (all flipped counters/cards should use CTRL-F)
RM STATUS counter was missing! Now fixed.
The 1-8 and 10-8 Indian counters were swapped. Now fixed.
Boats didn't rotate properly. Only the counter base was rotating. Now fixed!
Map artwork now looks clearer. I scale to 40% from the scans before processing colour etc. Also, file size dropped from 12.2MB to 10.5MB.
... Scott
09 AUG 2011 v0.2 FILE SIZE:12.2MB
Divided charts into Scenario Cards and Information Cards (Charts button and a Scenario button).
Scenario cards are now on separate tabbed panel, and can be used to mark game time etc.
Scenario Cards for every scenario and the CSG. (Organise charts and tactical campaign charts)
Added Basic Game scenario.
Added 3 variant scenario's from The General.
Inverted Counters
Proper prototypes for all counters.
Movement trails.
Added a battle marker with label and indexed battle number.
Status, Time and Commerce counters now look like the original counters.
Added custom buttons
... Scott
10 JUN 2011 v0.1 FILE SIZE:12.1MB
New map graphics. Orientated left to right now.
Added zoom and hide piece controls to main map.
... Scott
Screen Shots
Players
PRodgers
JokerRulez
scotty
akulkis00
BarflyWingnut
BTrap
charlescab
cutolo
cws
Damon
daxelos
destroyer1963
drewkirste
DRZ
elguapo18
Fman30
gjnelson
jfowler
KansasBoyd
LordJesse
MajorJim
MikeO
Myrdin
oldschoolhexman
rfdoane
Shad
smaul1
tormee
TFro
VonBrunt
wargamer1963
Zebra22