Module:2nd Fleet
From Vassal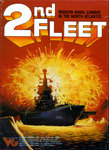 Files
Module Information
| | |
| --- | --- |
| Maintainer | alsandor |
| Contributors | alsandor, stroar |
Comments
Version 1.2, ported from Cyberboard with some game enhancements for playing double-blind (Note the invisible Soviet sub counter). Please check readme.txt for Vassal-specific features.
Version 1.3e correction made to invisibility and Deep Sub mask issues, available from here
Version 1.5 "Upgrade + Expansion", based on the existing 2nd Fleet module.Updated to 3rd Fleet standards. New pieces all made in Cyberboard. Please read the PDF-file for further information.
Versions 2.0, 2.0a and 2.0b made counter corrections and added scenarios to the original 2Fleet.vmod module. These do not include Team Norge's Version 1.5 upgrade and expansion
Screen Shots
Players
alsandor
Cherper
jrmerson
dcholtx
Niedziak
redmax67
Ulv Miller
WildBill
Brad
Toadkillerdog
Geoffrey Clark
Angel40k
sabreman1966
vialiy
raestuart
shmcbee
miker42
harkonnen13
taisensuikan
Fubb
jejecass
stroar
Salar
paulferris1964
Bluekingzog
dbeaver
daxelos
IanCooper
pzlehr
Starkadd
fatgreta
Jim
nukeg8r
kukailimoku
RiverWanderer
John Foster