Module:7 Ages
From Vassal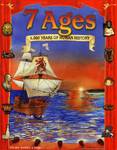 Files
Module Information
| | |
| --- | --- |
| Maintainer | Davout / Version 1.0: Seidel17 |
| Contributors | Davout, EricTorch,npilgaard, / Version 1.0: Seidel17, Chris(Stophle) |
Comments
Beta version ready for the brave. No testers answered my call so hopefully not too many errors. Let me know.
DDD Game Designs Version 1.0
This is the latest version of the 7 Ages Mod,
Complete facelift and functional differences.
This is next generation and is not compatible with the Beta Versions.
Latest version with minor corrections v1.01
The file can be found at [1]
Here's a link to the help file,Help PDF
Comments or questions about this mod: DDD Game Designs
Cheers,
Craig
DDD Game Designs
Screen Shots
Players
aqui
Davout
DerDiplomat
andrea
EricTorch
Teague
usapatriot1963
pmiranda
nw
Griffitz62
McCrank
Sartavos
lugoscagliapolli
warbear
brucesears
daveted
heyctg
Bluekingzog
KevinRohrer
Salamon
Jez
jburdett
LordJesse
gwgardner
Langeman
Bernd
gerland
Seidel17