Module:A Game of Thrones: The Board Game (Second Edition)
From Vassal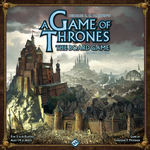 Files and Module Information
A Game of Thrones 2ed clanmacrae9 version
Mother of Dragons
Filename
Filetype
Size
Date
Compatibility
Developer
Other Contributors
0.6
AGOT2ED_MoD_0.6.vmod
module
99.16 MB
2021-01-08
3.2.17
Redworm
Winds of Winter - Variant
Game of Thrones - A Feast For Crows (2013)
Game of Thrones 9 players (version of West2)
Game of Thrones & Dance with Dragons
Standard Version
Piece Movement Limiters (to prevent cheating) with Multi-Language Support [Esp-Eng-Fra-Deu]
Spanish-Language Support [Esp]
Comments
A Game of Thrones 2ed clanmacrae9 version
clanmacrae9 Version 1.3
Fixed the power bid tokens. Move the bid tokens from the player War Rooms to the Additional Game Board bidding area. Right click to mask, right click to enter bid, then move to lower section of bidding area when ready to reveal. Right click to reveal bid.
clanmacrae9 Version 1.2
Fixed Greyjoy Power token issue so they return to the Greyjoy War Room.
clanmacrae9 Version 1.1
Fixed the ownership of Kevan Lannister card. Kevan was improperly assigned as a Baratheon owned card in version 1.0 resulting in he card being lost or uncontrollable by Lannister player.
The clanmacrae9 version of A Game of Thrones 2ed is built upon the 1.31 version below by E.Cameron. However, it is not compatible with that or any of the versions below. This version has the following major changes:
clanmacrae9 Version 1.0
Redesigned War Room - Includes the faction's combat cards and more information for setup.
Redesigned combat - Players manage combat cards from their War Room, sending the selected Combat Card to the Combat Board for the reveal, then send the cards back to the War room where they are designated as used. Other factions may no longer view opponents remaining Combat Cards.
Additional Game Board houses most of the between player turn actions. De-clutters the main map area.
See the .pdf tutorial above for an idea of the new designs and how to use the Combat Cards.

Game of Thrones - Mother of Dragons Expansion
Version 0.6
AGOT2ED - MoD is a rebuild of clanmacrae9 v1.3 and as such, thanks for providing the basis for this module.
This version features the main map, with Eyrie and Bite overlays, alongside the expansion Mother of Dragons map of Essos. This part of the map is only used if Targaryen is chosen as a player house.
War Rooms now have Sea Orders added but remain functionally identical to the previous module. Arryn and Targaryen war rooms added.
Vassal War Rooms have been added for each of the Westeros houses and are visible to all players via main toolbar. These enable commanders to assign 2 orders to any vassal house per turn, as well as deal 3 cards from the Vassal house card deck (hidden) via toolbar menu button for use in combat. These cards function identically to normal house cards in battle. Players MUST remember to return their Vassal house cards to the deck after each round where they are automatically shuffled. Vassal house orders are explained in the Vassal War Rooms. Vassal units and Supply tokens (start on position 4) are also housed in the Vassal War Room.
Dragon strength tokens have been added to the Turn track. These automatically move to the main map board to increase Targaryen's dragon strength on turns 2, 4, 6, 8 and 10.
Influence tokens are arranged on Influence tracks according to the expansion rules. Information is in updated War rooms. If any vassals are in the top 3 positions, remove all vassals from that track and move player tokens up. Then fill spaces with vassal tokens in same relative order to other vassals.
On start-up, garrisons are already placed on the main map.
Area, Power and Supply upgrade tokens are available for use on the main map board. Right-click to access downgrade tokens or return to pile.
Iron Bank loan cards - drag to track and they are dealt face-up. Right-click to return to bottom of deck. Right-click to loan to house or drag to appropriate house area on main map board - a text label for each area displays how much interest is due to be paid each round using the count function.
Game of Thrones - Winds of Winter Expansion
Version 1.31:
Updated house cards for all houses
Updated starting setup for some houses
Updated Westeros IV deck
Updated Wildling cards

Game of Thrones - A Feast For Crows expansion
Version 1.0:
Added House Arryn.
Rules for Feast For Crows included in help menu.
Added New Westeros firth deck.
Added the new Arryn House Cards
Save games are in mod. (File - New Game)
Spanish & English version are compatible each other. Only in-game images (cards, board and space) are translated. Console messages and text strings remains in English.
Added Objective Cards and Objective Zone.
Tested Version, if you see an error, send me an email and I will correct.
Game of Thrones 9 players (version of West2)
Version 1.0:
Developed based on the version created by West2 for 9 players http://www.west2productions.com/Gamers/AGOT9/
Added map to 9 players
Added Houses Arryn, Tully and Targaryen
Added One-Time orders tokens (explained in the war room)
Rules and FAQ Game of thrones and A Clash of Kings,included in help menu
Dragons Tokens Added (new targaryen unit)
Westeros fourth deck added
Added the cards in the expansion A Clash of Kings, and own created by West2 for new homes.
Save games are in mod. (File - New Game)
Version "briefly" tested, if there is an error, send me an email and I will correct.

Game of Thrones and Dance with Dragons:
Version 1.42:
Included Dance with Dragons expansion cards
Special menu for "Rodrick the Reader" card (Greyjoy - Dance with Dragons expansion ) with instructions on how to play it
Spanish & English version are compatible each other. Only in-game images (cards, board and space) are translated. Console messages and text strings remains in English. Note: To prevent image filtering issues it is not recommended to load the two versions at the same time in Vassal
New images for unit pieces, more realistic extracted from the Multi-language module.
Changed play space: new bid zone, added background, re-distributes elements and card positions
Random house selection in a separate window
Corrected zoom in Wilding cards
"Discard" command in Wildings cards now sends cards to bottom of the deck
Game of Thrones:
Version 1.31 changelog:
Fixed misspellings in messages output
Cosmetic changes to the board due to some misspellings
Cosmetic changes to neutral forces and garrison tokens
Cosmetic changes involving Tyrell symbol

Version 1.30 changelog:
Presets removed due to them bugging the turn indicator (still trying to figure out why)
Minor report changes (as requested by regular players)
Minor tweak on piece elements
I have made the presets for 3-6player games formerly in the module available online. They are compressed together in .rar format (if you don't know what that is, ask a friend. These saves can be found in my public dropbox folder here: https://dl.dropbox.com/u/16600563/Presets-v1.28.rar
For those who have been wanting to know what some of the changes are for v2.0 that I've been working on, this is a preliminary screenshot. A lot of it will be changing over the next little bit, but if you have any preferences, please feel free to E-mail me your ideas (preferably constructive ones) or chat me up if I'm online in the module. The screenshot can be found here: https://dl.dropbox.com/u/16600563/Game%20of%20ThronesMap.png
Happy conquering to y'all!

Version 1.28 changelog:
Presets for games added
Units now automatically unrout when changing to Westeros phase
Added text file to help menu with thanks, links, and copyright info.
Nothing major, just a couple things intended to speed up the game. ... and the txt file includes a link to the rules and online info.
Version 1.25 changelog:
Changes intended to speed up gameplay:
Orders may now be returned to warroom by a keystroke.
A Collect Orders button has been added to the warroom to facilitate cleanup.
Power Tokens may now be send from their location (once being drawn from a pile) to either the available or storage piles by a keystroke.
Other changes that may interest you (or you might overlook):
The King's Court overlay no longer overlaps influence tokens.
Many other misc layering issues have been rememdied.
Observer access to pieces has been restricted to the Random House Deck and the Turn Counter (which cannot be locked by vassal programming).
Many (if not all) of the accidentally flipped card errors on the Wildling Deck will not occur when all participants are using v1.25
Some reports that were "missing" have been replaced, others have been consolidated into 'packets' to make the log less spamming.
Cosmetic changes to the interface (ooo shinies!) Notice Retire is now a gravestone... "In the Game of Thrones you either win, or you die..." ~ Cersei Lannister
Somewhere around 400 lines of extraneous code have been removed to make future updates simpler. (Unless you're using one of the slowest thinkpads ever, this will not result in speed increases in the game's display rates.)
Future upgrade ideas are welcome, find me on the vassal module sometime. ~ Guiness
Version 1.2 changes:
Reports have been removed from several game pieces to declutter the log
Orders moved on the map are automatically hidden while not in the action phase
The button to hide all units has been given an icon
The selection process for house cards now uses a drop-down selection and automatically hides the new selection
The chosen house card is announced in the log upon revealing it
The Wildling discard pile was relocated to avoid accidential revealing of cards
The wildling deck is shuffled automatically at the beginning of the first planning phase of the game
Power tokens are now organized in decks when not on the map. The decks automatically keep count of them
The power token bids are automatically hidden when entering new values and announce the bid in the log when revealing them
A new turn indicator is added that players can use to show who's turn it is at the moment. This indicator can also play a sound each time the value is set if the players choose to do so
The Blade and the Raven automatically unflip at the start of the westeros phase
The Ready-state of houses is automatically re-set at the beginning of the westeros phase
Houses not in play can have their ready-state greyed out
Many smaller changes
Version 1.1 is based on the 1.0 version I found on the net. Notable changes from that version:
All graphics were tweaked to improve contrast
Card texts on the Westeros cards were removed to comply with FFGs policy regarding Vassal modules
The game loggs any movement of playing pieces on the Map using zone names the the player initiating the movement
Most compenents are part of a defined layer. Units and orders can be hidden to view the underlying map
Concealed orders have a new overlay to make them easier to identify in that state
Routed units have a red glow to them
Units can be sent back to the supply with a context menu command
Several zones have their compenents snap to their position (Wildling track, and the three influence tracks)
The game round is kept track of using Vassal's own turn counter which also updates the position of the turn counter on the map
A button was added that can be used to notify other players when one's turn is finished.
A deck of 6 cards was added to randomly assign houses pre-game
Currently a version 1.2 is planned which will include a little more automation to speed up play and avoid some common mistakes. If you run into any bugs with 1.1 feel free to contact me by email.
Version 0.8 has a Notes Window added for bidding during PBEM play

Multi-language version
Version 1.1 (Programed & Multi-Language) changelog:
Correct two bugs caused by the translation:

Raven phase: now can change the order on the raven phase.
Withdraw unit: correct that action.

Correct translate of 3 buttons in all languages
If see more bugs, please, report it.
Version 1.0 (Programed & Multi-Language):
Programmed game that don't allow a lot of movements cheaters
Multi-Language: Español, English, Français
Bad Deutsch reports translation, I'm waiting for a friend that is correcting it.
To translate the game completely, go File -> Preferences -> Language and reboot Vassal.
→ See also: The most important things that I programmed
Screen Shots
Players
Jorge Dacal Cantos
tkmjie
wagnerzm
Wedjat
adze
Morngwath
Maya
Frode
Emil Ivanov
Mike Spelun
Kylie Wiggums
Stamenchik
Einar