Module:Abaddon
From Vassal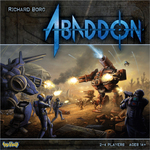 Files
Filename
Filetype
Size
Date
Compatibility
1.1
Abaddon 1.1.vmod
module
4.87 MB
2012-06-08
3.1.19
Module Information
| | |
| --- | --- |
| Maintainer | Joel Toppen |
| Contributors | Joel Toppen |
Comments
To select Terrain once placed, hold down shift key and left-click.
Version 1.1 notes: Fixed reporting error with red, green, and yellow player hands. Drawing Weapon System cards will not report to your opponents.
Target markers, when drawn from the draw cup in 3-4 player games will draw face-up. Simple solution: Draw the target marker directly into your hand.
Enjoy!
-Joel
Screen Shots
Players
Joel Toppen
Michel Boucher