Module:Ambush
From Vassal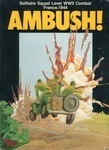 Files
Module Information
| | |
| --- | --- |
| Maintainer | madorosh |
| Contributors | madorosh |
Comments
Silver Star extension added. All Expansions for Ambush! now available (Move Out expansion would use Ambush! without any extension). Purple Heart extension added. Maps are scanned which is why there is a large file size.
Version 1.2 is a clean-up of the original posting and contains only the original work of madorosh. The Event Removal button was fixed, and the module was updated to the recent Vassal version.
Victory Games This is the initial offering, a complete VASSAL version of the original Ambush! game by VG. The graphics have been done pixel-by-pixel using scans as a guide. All paper material from the original game is still necessary to play, including the rules, charts, and action cards/view sleeve.
There is a bug in this which means you cannot choose a map. Go here to see how to fix it; http://www.vassalengine.org/forum/viewtopic.php?f=8&t=130
Version 1.1 of the module incorporates the fix.
Screen Shots
Players
iguana
madorosh
ArmedMedic
acwmichbrig
DerDiplomat
shaughnh
jtcourtne
pamarrin
Arnaud
MoonWa
Jonny
motoi
MCharves
model359
frenkyM
colinkun
Xiren
gunning22
JeffGeorge
ForeignInvestor
rporrini
Woodmachinist
rudewarrior
southbadge
Razor
LordJesse
jejecass
Scott
JonasK
mortificator
Silverleaf
Jabo
TBeach
philippe31
GornTC
bdgza
Desrespres
davidk64
rwj3834@yahoo.com randy