Module:Android: Netrunner
From Vassal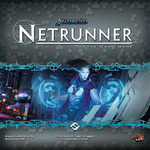 Files
Module Information
Comments
Version 1.2
Peek added to cards. (Accidentally removed during v1.1 updates.)
v1.1 extensions still work in v1.2 module.
Version 1.1
Save/Load Deck options available. Right-click on Corporation R&D or Runner Stack to save a deck (all cards but the Identity should be in the stack when you do this). Right-click on the empty R&D or Stack spaces to load a deck.
Cards can be added to the Corporation Archives face-up or face-down. The module now handles this by having 2 Archives: 1 face-up and the other face-down.
The board-size has been increased so the Corporation can use Upgrade cards easily.
The Identity cards have been reconfigured so you can add tokens on top of them (i.e. Tags).
A neutral hand has been added so a user can draw cards to it without the other user suspecting cheating (i.e. Jinteki Operation Precognition allows Corporation to draw 5 cards and then put them back in any order).
Secret Credits added to Genesis Cycle Expansions & Creation and Control Deluxe Expansion. (Jinteki Ice Snowflake uses 0 - 2 Credits in a secret bid.) Draw the credit you want to your hand, flip it to display a "?", put it on the board, and flip it to the Credit side when the other player has their Token on the board.
Accidental copy/paste in Runner Cards section removed from SanSan Cycle Expansions & Data and Destiny Deluxe Expansion
Version 1.0
All the card images are from Acoo.net. Expansion packs for the game will be covered in extensions. Since the expansions are just cards, they will be added to the card list and no other functionality will need to be changed. This module was made by making changes to the Netrunner module: http://www.vassalengine.org/wiki/Module:Netrunner.
Screen Shots
Players