Module:Arkwright
From Vassal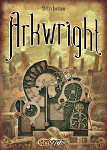 Files and Module Information
English
Filename
Filetype
Size
Date
Compatibility
Developer
Other Contributors
1.0.3
Arkwright v1.0.3.vmod
Module
7.27 MB
2020-07-11
Vassal 3.2.17
Dulgin
German
Filename
Filetype
Size
Date
Compatibility
Developer
Other Contributors
1.0.3
Arkwright v1.0.3DE.vmod
Module
7.3 MB
2020-07-11
Vassal 3.2.17
Dulgin
Module Information
In Arkwright players run up to four factories in England during the late 18th Century. Your goal is to have the most valuable block of own shares. Thus, you must increase your share value and buy shares from the bank.

The 2 standard scenarios "Spinning Jenny"/"Waterframe" and the bonus scenario "Spinning Mule" are included.

Comments
Please send me feedback if you find any bugs in the module design or have suggestions for improvement.


For module history and older versions, see the module discussion page

Update v1.0.3
Changed access to player boards. Now all players can move pieces on other player boards. Restrictions only to activation, shares, credits and money
Screen Shots
Players