Module:Assault on Hoth: The Empire Strikes Back
From Vassal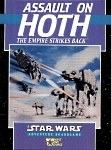 Files
Module Information
| | |
| --- | --- |
| Maintainer | Craig68x (English), Yuyu (Spanish) |
| Contributors | |
Comments
UPDATE: 8.29.17 I acquired the necessary materials. I will now finish this module. No time set for completion yet.
UPDATE: 7.24.15 I lost most of my working material due to a computer crash. It will be some time before I have all I need to finish this one. But, I started it, so I will finish it.
ES
Asalto a Hoth y expansión Other Space, ambos completos, incluidas cartas.
En ambos caso requiere de colocación de las fichas iniciales, se pueden crear partidas salvadas con el inicio de juego para poder usar más tarde como "partida de inicio".
Todos los vehiculos, transportes, y fuerzas en el tablero están dotadas de marcadadores para indicar cualquier tipo de situación en curso.
Se ha pensado en un modo en solitario para probar o jugar con el módulo, sin necesidad de conexión.
Saludos by Yu
Screen Shots
Players