Module:BattleLore (Second Edition)
From Vassal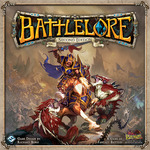 Files and Module Information
Comments
Module I
BattleLore (second edition) - A Game of Fantasy Battles published by Fantasy Flight Games (FFG) and designed by Richard Borg and Robert A. Kouba
This module is intended as a gaming aid for players owning a physical copy of the game. As such it does not contain any rule booklet nor rule reference, Unit Cards, Scenario Cards and Deployment cards.
Before starting an online game remember that:
One player should shuffle the Command Deck and the Lore Decks
The other player has to sync (right-click on your name in the server window)
UPDATE version 0.7.3
fixed minor bugs in two deployment cards
UPDATE version 0.7.2
deployment cards can be recognized by card owner even when flipped (no need to peek)
UPDATE version 0.7.1
added button to toggle visibility of deployment hexes
UPDATE version 0.7
added units of both Daqan and Uthuk expansions
added expansion Lore cards
added initial selection of Lore decks
UPDATE version 0.6.2
added command tent deployment cards
added terrain layer for deployment cards
added list of all Lore cards
UPDATE version 0.6.2
fixed menu in Lore cards
fixed layer of Deployment Cards
UPDATE version 0.6.1
fixed bug forbidding flipping of dummy cards
UPDATE version 0.6
added neutral reinforcement packs: units, tokens and lore cards;
proper name for deployment cards;
added prototype to customize unit and deployment cards in future expansions;
reduced the size of banner icons;
scaled units for a better visual effect;
fixed bug in the Chaos Lord: hit points changes from 6 to 3 and after it they do not increase more than 3;
removed random deck of deployment cards;
report message when stunning or poisoning units;
Module II
This module offers a kind of pseudo-3D vibe, for both figures and dice. Be sure to check out the in-game Tutorial for some tips on how best to use the module. Scenario cards have been redacted to ensure players own a physical copy of the game.
UPDATE version 1.07
Fixed a bug that prevented the Latari player from drawing Command Cards
Updated card art for lore cards Spring the Trap and Setting the Trap
Updated unit card text for Deepwood Archers, Bloodwood Scouts, Storm Sorceresses, Darnati Warriors, Ventala Skirmishers, and Wealdcaller Bowsingers. Changes included spelling errors, new rules, and rules clarifications.
UPDATE version 1.06
Seagles made changes to the board. Budgernaut added Latari elves as a playable faction.
UPDATE version 1.01
fixed dice rolling (audio was triggered inconsistently); select dice to be rolled and click the 'Roll Selected' toolbar button or use the shortcut Ctrl+Alt+R
Screen Shots
Players
g1ul10
LanceJ84
seagles
Budgernaut