Module:Carcassonne: The Castle
From Vassal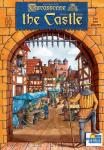 Files
Module Information
| | |
| --- | --- |
| Maintainer | jrwatts |
| Contributors | Sultan, ColtsFan76, dhbruch |
Comments
Carcassonne: The Castle is a game designed by Reiner Knizia based on Carcassonne by Klaus-Jürgen Wrede and published by Hans im Glück Verlag.
Usage of this module implies that you own a hard copy of the game.
If you are interested in announcements about new or updated Carcassonne modules subscribe to the announcement mailing list here http://www.freelists.org/list/carcassonne-vassal.
Version 2.0 adds the Falcon expansion (freely available from Reiner Knizia's website), changes the coding on the meeple counters so they update properly, and adds an optional house rule that uses all the bonus tiles instead of discarding the 5 extras (see the User Guides in game for details).
Screen Shots
Players
Sultan
KingMob
wasal
PaulRein