Module:Carcassonne: The Discovery
From Vassal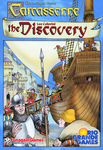 Files
Module Information
| | |
| --- | --- |
| Maintainer | unknown |
| Contributors | Sultan, ColtsFan76 |
Comments
Carcassonne: The Discovery is a game designed by Leo Colovini based on Carcassonne by Klaus-Jürgen Wrede and published by Hans im Glück Verlag.
Usage of this module implies that you own a hard copy of the game.
If you are interested in announcements about new or updated Carcassonne modules subscribe to the announcement mailing list here http://www.freelists.org/list/carcassonne-vassal.
Screen Shots
Players
Sultan
ColtsFan76
robrajcs