Module:Castle Panic
From Vassal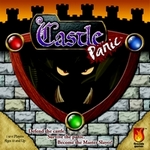 Files and Module Information
Comments
We're under attack! Protect the castle from the onslaught of fierce monsters.
BGG page: https://boardgamegeek.com/boardgame/43443/castle-panic
Change Log
Version 2.0
Vassal 3.7.5+ compatibility
removed unused images
reduced PNG file size
reduced overall VMOD file size
updated / refreshed toolbar icons
added PDF English rules (Core game)
added PDF English rules (Wizard Tower expansion)
added PDF Help - Quick Reference Sheet
added symbolic dice button
reworked markers / counters pool display
removed charts/rules window (now available in PDF format)
added mouse over stack viewer (zoom)
Version 1.0
Initial relase
NOTICE: This module has not been sufficiently tested and might have undiscovered problems.
Screen Shots
Players