Module:Chicago, Chicago!
From Vassal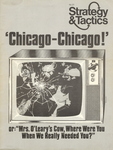 Files
Module Information
| | |
| --- | --- |
| Maintainer | ParadoxGames |
| Contributors | ParadoxGames |
Comments
Chicago Chicago!, originally released by SPI, is a two-player simulation of the 1968 Democrat National Convention Riot. Players take the role of either the Chicago Police or Protesters. The game is heavily weighted against the police, so it's recommended that the more experienced gamer take this role. The Vassal module contains all the game's components, including rules and charts. The non-counter components were originally black and white. They are colorized for the Vassal Engine edition.
Screen Shots
Players