Module:Chrononauts
From Vassal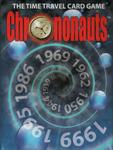 Files and Module Information
Comments
Chrononauts_1.3.vmod
Added 2 promo cards (artifacts) and some minor improvements.
Chrononauts_1.2.vmod
Fixed fatal flaw introduced into Version 1.1. Oops!
Chrononauts_1.1.vmod
Version 1.1 adds a couple of missing action cards and the Missing Artifacts expansion (https://boardgamegeek.com/boardgame/364769/chrononauts-missing-artifacts).
Chrononauts_1.0.vmod
Version 1.0 is a complete rewrite featuring full multiplayer and solo modes plus an automatically updating timeline. See in-game help file.
Chrononauts_Solo_v0.2.vmod
Chrononauts solo mode.
Screen Shots
Players