Module:Cloudspire
From Vassal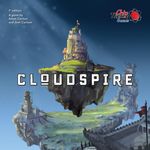 Files
Module Information
| | |
| --- | --- |
| Maintainer | gattsu |
| Contributors | JeanMichelGrosjeu |
Comments
Cloudspire is 1-4 player strategy game heavily influenced by both tower defense and MOBA (Multiplayer Online Battle Arena) games. Solo and Cooperative play are driven by a scenario book that chronicles the story of the game from the perspective of each individual faction. Players control one of four unique factions in a battle to destroy and steal source energy from their opponents. Send and defend against armies and minions, build towers to protect your base, and explore with your heroes in search of resources and powerful Relics to turn the tide of battle.
Version 2.0 New Version is NOT done and uploaded by me (gattsu). Version 2.0 includes more than the base game which i did not got permission by the publisher to include. I have no knowledge if this new vassal module has been approved by the publisher.

Version 1.0 This is the first draft of a Vassal module for the MOBA Game "Cloudspire". The Module includes the Base game Components.
© 2019 Chip Theory Games. All rights reserved. Included by permission of the publisher
Please support Chip Theory Games!
Screen Shots
Players