Module:Crusade and Revolution: The Spanish Civil War, 1936-1939
From Vassal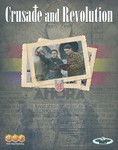 Files
Module Information
| | |
| --- | --- |
| Maintainer | cemoreno |
| Contributors | kbernatz |
Comments
v2.01 ENG R14 only deploys 3 RPA.
v2.11 ESP El control de los espacios cambia automáticamente al colocar encima unidades. También se puede cambiar haciendo click-derecho sobre el propio espacio. Despliegue inicial corregido, unidades para el evento R14 corregidas.
v1.3.1 corrects a duplicate N1 Air Bridge Card. It is now only located in the Nationalist player hand at the start of the game (Campaign Game set-up).
Screen Shots
Players
Pierre Miranda
Kevin Rohrer
Victor Hernandez
Carlos Fernandez
Chris A