Module:Day of Days: The Invasion of Normandy 1944
From Vassal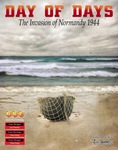 Files
Module Information
| | |
| --- | --- |
| Maintainer | Jim Pyle |
| Contributors | Jim Pyle |
Comments
Version 1.20
1. Fixed some formation highlighting errors
2. Fixed some units not having "Send to Graveyard" trait
3. Fixed some "Missing Image" errors in some of the setups

Version 1.10
1. Upgraded to VASSAL 3.5.0
2. Added more K-tex colors
3. Added small transparent DG markers
4. Addes small transparent OSS marker
5. Added Circle markers
6. Fixed Target markers that didn't "Return" correctly
7. Added "Flare" trait to counters
Version 1.07
You can now highlight formations using the Formation Activation counter. To use this with existing games you'll need to use Tools/Refresh/Run from the menu bar.
Version 1.02
1. Corrected Jig Green and Jig Red Wave 2 reinforcements
Version 1.01
1. Added "target" marker to backs of three of the US 101st AB arty units
2. Fixed set ups missing 4-I-25-12SS mortar.
Screen Shots
Players