Module:Downtown: Air War Over Hanoi, 1965 - 1972
From Vassal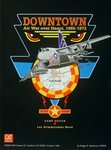 Files
Module Information
| | |
| --- | --- |
| Maintainer | TeTeT |
| Contributors | E |
Comments
The module, based on Antonio Pinar's release 1.11 from Airbattles, is currently finished.
The latest stable Downtown module is 3.1.14. The only difference to 3.1.13 is that waypoints are completely invisible again. For VASSAL 2 you find older version of the module as well. For VASSAL 2 additional Java code was developed to improve solitaire playability. This was dropped with the 3 series of Downtown.
Please check below for details and for the latest version. You can also use the wiki to follow the development of the modules and place suggestions and wishes.
Features
Flights contain altitude information

Either abbreviated (D,L,M,H) or written out.
Use Climb and Descend to change it or ctrl-e and ctrl-d

Movement Trails

DRV and US Flights may use movement trails, great for monitoring flight
By default disabled, use ctrl-t

Hidden Combat Markers

Use the hide command to make the combat markers transparent

Percentage Die

Rolls now a value from 0 to 99

Initiative Die

Same functionality as draw from stack, but easier to use

Combined Flights

A single counter can now be used as generic marker as well
Use Generic or ctrl-g to switch besides generic and visually identified sides

Target marking

Mark targets on SAMs and Acquisition markers

Flight Logs

Flight logs now hold a line for kills and one for mission type (US)
Module
Use this instead of the original Downtown module from [1] to improve solitaire playing suitability. If you have problems using or find bugs please send mail to downtown AT NOSPAM tspindler.de.
Map

Added hotkey CTRL-SHFT-R for LOS tool
Added hotkey CTRL-SHFT-H for hide pieces on map
Added map snapshot with hotkey CTRL-SHFT-P
Changed Mouse-over Stack Viewer on Map to show pieces in all layers and zoom by 30%

Changed Fingers hotkey for hiding to CTRL-H
Changed order in markers menu
Changed graphic for Damaged Marker for SAM and Fire Can
Splitted damaged counter to SAM and Fire Can
New menu Markers->Electronic Warfare, populated with counters from Air Combat
Renamed Altitude counters
Renamed Clouds counters
Added turn label to Game Turn
Changed Layers to Ground, Air, and Marker
Changed single plane flights to show marker in Generic mode
Changed CTRL-E for Edit Label back to CTRL-L
Changed 2d10 to report 10 instead of 0

Downtown v2-99i

Changes to Turn Trackers

Changed hotkeys for pre raid and during raid phases to ctrl-f1 and ctrl-f2
Renamed 'During Raid' to 'Raid'

Added Last Move Highlighter to Map
Added Hotkeys for range (shift-ctrl-r) and hide (shift-ctrl-h) on map
Removed Trigger in control and delete prototype
Changed Generic ID and Generic Layer order
Removed depreceated 'Hide' button

Downtown v2-99h

Changed hotkey for zoom on map to ctrl-shift-[Z/X]
Fixed items broken by 2.99g

Downtown v2-99g

Changed hotkey for zoom on map to ctrl-shift-[-=]
Changed hotkey for climb back to ctrl-e
Changed hotkey for clone and delete back to ctrl-c and ctrl-x
Changed hotkey for Flight Logs to ctrl-p
Changed hotkey for label to ctrl-l in flights and fire can
Added label for SAMs (ctrl-l)
Added ctrl-shift-[a|s] to sideway turn menu
Added shift-[a|s] to hexside turn menu
Changed reports for climbing and turning
Converted Inventories for US and DRV

Added marker side
Added generic to marker type
Changed order from State/Type to Type/State
Added plane to markers
TODO still need to convert type to plane for US flights
TODO add service (USN|USAF|Generic) as type

Added Targets as inventory
Fixed broken US generic counters
Added altitude to marker reports (as suffix for the layer)
Changed filenames

Downtown v2-99f

Added oh-so-missing DRV logsheet.
Minor alignment tweaks to US logsheets.

Downtown v2-99e

Menu Commands standardized & (hopefully) made more logical.
Hexside turns added.
USAF & USN logsheets upgraded to allow erasing/resetting all fields at once.
Automatic DRV Check when moving added for Solo player.
Massive underlaying re-organization to primarily allow #1 above, causing a high (typo-induced) bug or omission potential. So much so, I'd almost call this a wide beta.
Built-in help added. It's minimal but is highly recommended reading! It points out some of the non-obvious commands, as well as highlights at least one feature that Solitaire players may've overlooked and/or not understood.
Visual dice & visual initiative chit pulls added to toolbar.
There will be at _least_ one more version.
New icons for menus
Consistent hotkeys
Flight Log Sheets as in the boardgame are available (user <enter> to edit)

Be aware that these sheets are not connected to the counters flight log!

PDF Charts are available in game
Added Inventory trait

Overview of available flights are displayed as tree
Centers on selected flight
Multiple selected flights fly straight on apply
Tree layout is customizable

Support for turning on hexsides

shift-s and shift-a move the flight sideways

Downtown v2.7

Corrected permissions for deleting and cloning DRV defenses
Added turn tracker for pre raid and raid phases
Added damaged and crippled rows to property sheets for flights
Added Inventory trait for US and DRV
Added type marker for all combat counters
Added dynamic properties (ctrl-v)

Mission for US flights
Dummy or Real for DRV flights and SAMs

Changed invisibility to sides

Removed Hide invisibility custom code

Downtown v2.6.1

Changed label color for air combat markers to black
Moved marked moved trait to top so it turns when turning the flight

Downtown v2.6

Removed does not stack trait for Attacks and Damaged marker

Some Attack Success markers tended to disappear, hopefully fixed by this

Removed label on Game Turn marker (ctrl-s)

This fixes the null pointer exception

Electronic Warfare flights have trait to mask their silhouette (ctrl-u)

Needed to make the single airplane counters compatible with generic counters (ctrl-g)

SAMs

SAMs and SAM Warning markers now use prototypes
Launch markers can be deleted again
SAMs report on launch in the message window
New colour for SAM target label
SAMs and Acquistion marker now hold the target as well as their own id

'Change target' or (ctrl-t) can be used to store the current target

MiG-21 layers have been corrected (were all Van Cuong)
Correction to flights

Changed order of traits in all US flights to give 'flip' command to DRV player
Fixed layer ordering with US flights
Corrected US EW flights
Changed and corrected US CSAR flights to use CSAR prototype
Corrected DRV flights to work when using generic and flipping sides

Removed Restricted Access

Both players may see and move their opponents flights. Use the Honour System or keep information in private windows

Removed stacking system

US Flights got stuck on DRV ground defense units in log replays and online games

Downtown v2.5

Game turn marker now holds a property sheet with scenario information

ctrl-s on game turn markers shows it

Acquisition and Standoff markers may now move and turn
Change of Acquisition markers

ctrl-s adds a small image of the counter
this image is visible when the counter is stacked below a flight
Acquisition markers can now be 'transported' by flights

ECM Flights may now place jam markers

ctrl-j places standoff marker for ECM flights
ctrl-j on standoff markers toggles between spot and standoff jam

Stacking changes

Added three stack levels to map: Ground, Air and DRV Air
DRV ground defense are on the ground
US Flights, Jamming and Acquisition markers are in the air
DRV Flights are in DRV air, so don't stack with US Flights
DRV ground defense may stack
Fire Can counter is smaller than AAA now

Cleanup

Deleted no longer needed prototypes

Flight Pool

Removed extra set of markers from the flight pool
Use the pieces box and clone if necessary

Area of Effects

DRV ground uses now the map shading trait for displaying the range
1 for AAA, 2 for Fire Can, 5 for SAM

Downtown v2.3

'Hot Areas' button to see ranges of AAA and FireCans
Waypoints

embedded information (numbering and altitude)
color code for mission (none, strike, recon, other)

Hide Pieces button for map
Move Fixed Distance trait for flights don't have to be dragged around
Replace Initiative Chit with Symbolic Die
Add Open Airfield marker
New US Force Planning board with areas for pre, main and post raid forces

Downtown v2.2.3

Bug fix for counters made generic - the mask trait removed the gamepiece in multiplayer games
Bug fix for US movement trails - there were none

Downtown v2.2.2

Bug fix for US initiative pool (only Initiative 1 chits)
Update for Downtown v2.2 to v2.2.2

Install with java -jar updateDowntownVASSALModule_v2.2_to_v2.2.2.jar in the same directory as your downtown module

Update for Downtown v2.2.1 to v2.2.2

Install with java -jar updateDowntownVASSALModule_v2.2.1_to_v2.2.2.jar in the same directory as your downtown module

Downtown v2.2.1

Bug fix for Deck altitude prototype for non generic flights
Update for Downtown v2.2 to v2.2.1

Install with java -jar updateDowntownVASSALModule_v2.2_to_v2.2.1.jar in the same directory as your downtown module

Downtown v2.2

Initiative counters are now drawn hidden and need to be flipped
Flights can be made generic

only the detection marker (questionmarker or spade, diamonds and hearts) and height stays visible
use the Text Label to hold the generic markers id (100, 101, etc)

Changes to SAMs

can be set up hidden
SAM Warning counters can now be flipped to SAM (ctrl-f)

Stacked counters are now viewed when the mouse stays over them for some 0.7 seconds

Downtown v2.1

Adds movement trails
Adds transparent combat marker
Bug fixes, only generic US counters could do DRV detection

Downtown v2.0

Adds hidden DRV
Adds altitude information on flight counter
Examples and Reports
Summaries:
A game summary including player comments on YOU KEEP ME HANGIN ON using a development version of 2.6.
V2.6 Example:
V2.1 Examples:
V2.0 Example:
Code
The custom buttons and traits source code. It largely follows the programming tutorial and hints and tipps from Rodney and Brent on the mailing list.
The code is published under the GNU Lesser General Public License.
How to use
The idea is to save several possible DRV ground defenses for a scenario to have a collection. To play the scenario simply select one randomly and enjoy the uncertainty where the AAA really is... Please check the included help file for more information.
Ideas
Add loaded status to US flights
Remove unneeded graphics from module
Code a DRV flight autopilot :)
Bugs
The range isn't properly calculated when the flight sits on some hex edges
Fixed in Vassal 2.6: Empty property sheet tickers are restored to full when loading a saved game or log file

Use the notes windows to remember it's empty or set the tick max value to 0

Fixed in Vassal 2.6: Scenario Settings on the game turn marker don't work with a label
Fixed in Vassal 2.6: Marked moved status is lost when using the moved fixed distance trait and logging
Game Summary for Downtown Scenario D3: YOU KEEP ME HANGIN ON
In January Sébastien contacted me (Torsten) as he found some errors in the modified Downtown module. He was courageous and agreed on testing the new module version 2.6 in a PBEM game. We decided to go for the D3 scenario and set up a game with me as DRV and Sébastien took the US side.
Prior to the Raid
DRV
The scenario specific rules ask for a decision to have a SAM or MiG day and only either system may be used. So I decide to spread out the ground defenses to protect all possible targets. The SAMs are setup in the area between Hanoi and Haiphong. The forward target at Co Trai is protected by AAA and Fire Cans. The picture SAM Defense shows the effective range of the SAM batteries with 5 red colored hexes around each:
As I only get minimal warning of the incoming raid I decide to go for a SAM day and keep the MiGs in the hangars.
USA
As it was both my first full-scale raid scenario and first Downtown PBEM game, I decided to have an easily-manageable raid force. My target was randomly determined to be the Bac Giang POL storage site which gives me the choice of either an USAF or USN raid, so I pick an USN mission for USS Oriskany. The raid force consists entirely in F-8 (CAP, Armed Escort and Recon) and A-4 (SEAD, Bombing) flights plus two EA-1F with a single EF-10 USMC reinforcement as my Jamming mission. The route was plotted on the map with Torsten's special planning counters (great tool!) that are, of course, invisible to the DRV player, just like his hidden SAMs/AAA are to me. I chose blue arrow 7 as my ingress/egress hex, from there the plotted flightpath went halfway between Haiphong and Hanoi to stay as far away as possible from expected SAM concentrations. The Jamming flights will enter the map (as opposed to jamming from off-board), there is little choice with those early ECM aircraft since their jamming power is weak and you really have to get them close to the threats to be effective. As the Electric Spads fly very slowly, they were given a good head start, entry of the pre-raid and main raid forces is spread out from turn 1 to turn 4, and the two RF-8 will enter on turn 9, exactly 5 minutes after the last bombing flight which is the minimal delay to recon a target after it's been struck (time for the smoke and dust to dissipate). At this point, I was thinking Torsten would pick a MiG Day, to get more interaction. OTOH, given the sheer number of SAM sites allocated by the scenario, SAM/AAA-only is also a tempting option.
During the Raid
We finished the game in 20 turns and in six weeks of real time we exchanged more than fifty logfiles.
DRV
After the first US flights enter undetected my radars have a busy time. The US approaches Haiphong over land but close to the coastline. As Haiphong is well defended by SAMs, Fire Cans and AAA I feel confident. Once the first flights enter the extreme range of my forward SAM batteries missiles are launched. Some US planes had to evade, but the first real damage was dealt ouy by AAA when a jamming flight came entered a barrage area. By this time it is clear that this is a raid by the Navy. After some time the bombing flights form and take a route more in land. This leaves me boggling which target they want to strike, it probably will not be Haiphong. After some advance towards Haiphong they head towards Hanoi and I decide to empty the SAM batteries missile depots around Haiphong on the departing Iron Hand and Jamming flights. Eventually it becomes clear that the Bac Giang POL storage might be the target. See the image that shows the situation at turn 10. Iron Hand flights are busy attacking the SAM batteries at Kep and Bac Ninh while the bombers fly in a long line.

The remaining SAMs at Hanoi and in land from Haiphong launch missile after missile at the flights and force some strike flights to jettison their bomb load. However one flight makes it safely to the target and scores a direct hit. After their bomb run the Skyhawks turn towards Hanoi and the Iron Hand flights cover their departure by attacking air defense close to the city. See the next image that shows the situation around the target at turn 14.
In the battle between SAMs and Iron Hands two batteries are destroyed and no damage is done to US flights. After a short while the recon flight arrives and is forced to evade just before Bac Giang. Turning towards Kep it gets under fire from the airfields FlaK but in the end it completes its photo run.
USA
I got a good result on the Early Warning roll, so it took time for the DRV defenses to wake up. MiGs scrambled and SAM lit up, I waited a few turns to make sure it's a SAM day, then aborted all my CAP assets. I played with the idea of leaving a couple of CAP flights on the map loitering at the extreme range of SAM batteries to draw off some fire while the bombers fly by, then I decided it wasn't worth the risk, so all the CAP F-8s quickly exit (it maynot have been entirely historically accurate to have CAP depart before the raid is over, so let's assume they're orbiting right off the map edge :). One of the EA-1s was damaged by a lucky AAA hit and aborted - a bad start! Many SAM launches from Haiphong were observed, most of them at the Iron Hand aircraft, forcing several avoidance and jettison results. One of the Armed Escort F-8 flights (loaded with CBU) aborted, fortunately the A-4s could retaintheir Shrike loadout even after jettisonning. I didn't expect much from the Shrike (especially as most of my launches were lofted, further reducing hit probability) but actually it did its job, with Torsten shutting up one or more SAMs every time I launched. As the bombing flights approached their target, they spread out and the lead flight accelerated to suppress AAA in the target area with CBUs. I managed to score a suppression 3 on the printed AAA in Bac Giang. It should have been a milk run for the bombers! Unfortunately, I did my suppression attack a minute too early and the DRV gunners rallied almost instantly, as the bombing A-4s were approaching their IP... The remaining Armed Escort F-8 flight, which had already turned south towards Hanoi to cover the egress, was called back to the rescue and made a follow-on CBU pass on Bac Giang, suppressing AAA at level 1. Out of 3 bombing flights, only one managed to strike the target as Torsten's sustained SAM launches and AAA barrage forced the other to evade. Fortunately, it was an Attack Success 4 for the successful run, and no one had been shot down yet, although a single Iron Hand A-4 was crippled by AAA while attacking one the SAM batteries west of Hanoi, one of which is destroyed by a CBU attack. As the bombers started turning south on their egress path, Sheepdog (the two Armed Escort Crusaders, now out of ordnance) decided to make an impromptu strafing pass at the Bac Ninh SAM site. Dodging AAA shells, the two F-8s destroyed the SA-2 with cannon fire, looking good doing it - they didn't even deplete their guns! The Last of the Gunfighters earned its title again, this time in the air-to-ground field :). Nevertheless, SAMs kept on launching until the end of the raid, even denying the two RF-8 a first BDA run. The recon aircraft evaded, turned around and came back at the target on the return leg, undisturbed this time as most sites were depleted. Shortly after successful BDA we called it a game, as theegressing flights still on the map were already out of SAM range and above AAA reach.
Result
The game ended in an inconclusive operation with the following victory points:
DRV gets 2 VP for an A-4 that failed to recover
USA gets 4 VP for two destroyed SAMs
USA gets 5 VP for heavily damaged target
DRV
A very interesting and good game! I fired over 30 missiles and only got SAM avoidance through. Which was good enough to strip most of the strike flights bombs. The AAA did physical damage to some flights and gets credit for the lost US plane. With only one damage marker on the target the result could have swayed even more in favor for the DRV.
USA
It turned out that the crippled Iron Hand A-4 didn't make it back to Yankee Station, but with two destroyed SAM sites and maximum attack success, I was pretty confident that victory was mine. With a 4 attack success it's hard to roll anything but a Destroyed result... Unless you're like me, out of luck after evading dozens of SAMs and AAA shots : I managed to roll a Heavy Damage only, resulting in an inconclusive operation. Well, that's what the Brass in Washington say, as a USN mission commander I'm pretty satisfied of my raid :) An exciting game overall, even without MiGs, and it played exceptionnally fast as compared to my previous air power boardgames PBEM experiences. Torsten and I have already agreed on a follow-on game, this I'm playing the DRV, that means there will be MiGs, and hopefully Phantoms falling out of the skies :)
Thanks to Torsten for the Enhanced Downtown module, to Antonio for the original module, and to Lee for the original game.
Screen Shots
Players
czmielon
TeTeT
xconifer
Alberto
stevecq
Tarsyk
Toadkillerdog
sprydle
ahickey
E
pmiranda
ricmadeira
Gus
DRZ
jjtaylor37
sedecula
Toadkillerdog
LukeSineath
akuusi
asdnart
LordJesse
Volko
jonbryon
MiracleMike
CBRMichael
pupikiza
netWilk
BugDany
Gevalle
pupikiza
lchmelsky
dbeaver
esparver73
daxelos
dbeaver
Panther11