Module:Espinosa
From Vassal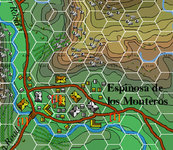 Files
Filename
Filetype
Size
Date
Compatibility
1.1
Espinosa v1.1.vmod
Module
2.87 MB
unknown
unknown
Module Information
| | |
| --- | --- |
| Maintainer | taikunkikun |
| Contributors | taikunkikun |
Comments
Gamers title available free at http://www.multimanpublishing.com/theGamers/archive/espin.htm
Espinosa V1.1
New V1.1 (Sept. 27, '03) Updated MapCentering.class so that right clicking centers the map again.
_____________________________________________________________________
V1.0 Here is a VASSAL version of The Gamer's free release of Espinosa still available at:
   http://www.multimanpublishing.com/theGamers/archive/espin.htm

The rules for the game are available here for those who do not already have them:
  http://www.multimanpublishing.com/theGamers/archive/nbs.htm

Facing: I've made it so that all the counters can rotate to 12 facings. Unfortunately some of the counters do not look so great when they are rotated. Included in the Markers Tab is a "Facing" counter which is simply a red line which you can rotate to indicate the facing of the unit if you wish to use it.
It was a chore to complete this module as I have no idea how to play the game!!!!! I downloaded it a year ago but could find no medium through which to play it....so thank you Rod for creating VASSAL. Just for giggles I download the material from MMP to see if anything had changed....well, everything had changed!! The map, counters, all different!! I checked some old counters against the new and the changes appear to be graphics only....I didn't see any units that had different values on them. Not to say that it isn't possible.....
So...Enjoy!! If you are an experienced NBS player and see anything that is incorrect, please correct it and upload it to Rod as V1.1 if you would be so kind.....and Rod, please add that players name to the module!!!
That's it, Bill
Screen Shots
Players
taikunkikun
ktodd
Badger
JanWels
lpauperio
rhammond
daxelos