Module:Fortress Europa
From Vassal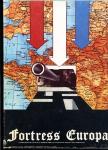 Files and Module Information
Comments
From http://www.boardgamegeek.com/boardgame/4050/fortress-europa....

Fortress Europa recreates the Allied campaign in Western Europe from D-Day to March 1945. The Allied player must select an invasion site and make a successful landing, breakout of the beachhead, drive across France and push deep into Germany. The German player must prevent the Allied Invasion or else conduct and orderly withdrawal across France, constantly delaying the Allies, and then counter attacking in the winter.

Fortress Europa is the successor to Avalon Hill's highly acclaimed Russian Campaign...The basic game is 37 turns long, but several scenarios are provided for those wishing a shorter game. In addition, Sudden Death Victory Conditions are included which shorten the basic game ...


08 APR 2012 v1.0 FILE SIZE:5.4MB
Revised version ...

Break the map into smaller tiles to make memory consumption on smaller PC's less
Reduced all reference charts and game tracks in colour complexity. Again this is to make memory consumption on smaller PC's less.
There is now a single toolbar button to mark ALL pieces on ALL maps as unused.
Added a toolbar button command to turn off movement trails on ALL pieces on ALL maps.
Movement trails for all units other than the one your currently moving are set to a very faint 10% transparency, so they should not be as distracting.
The order of toolbar buttons and hotkeys have changed slightly.
Added a d10 dice to the toolbar.
Players can now place a white text on black background text label on the bottom of any counters and markers.
Aircraft: Return to AMC now sends the aircraft to the bottom of the Air Craft Mission Chart, with a seperate pile for the Axis and Allied.
So that planes can be placed ON the rivers on the map, any and all counters and markers can now ALSO be placed at the edges and corners of hexes.
The Axis and Allied control markers are now much smaller (25x25px) and don't stack with counters. You can place them and they won't get dragged away with moving counters.
Corrected the menu entry for the Raid marker to read "Flip" instead of "Increase".
Now only Axis units in the "At Start" section of the OOB have a "Hidden" menu command.
Flipped units and markers now report the change when flipped.
Updated all help files.
... scotty


Screen Shots
Players
wga
jrmerson
akulkis00
BigDave
frenkyM
jamin2kiss
JokerRulez
MoonWa
Rindu
rockydadog
ronson
SamVimes
scotjamn
scotty
tozesantos
kukailimoku
Paul-E