Module:Fury in the West
From Vassal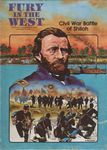 Files
Module Information
| | |
| --- | --- |
| Maintainer | scotty |
| Contributors | |
Comments
Description from www.boardgamegeek.com .....

Game of the Battle of Shiloh - April 6 and 7, 1862.

From a Battleline catalog:

Dawn. April 6, 1862. The Union Army of the Tennessee is beginning to stir beneath the shadow of a small frontier church in western Tennessee. The troops of U.S. "Unconditional Surrender" Grant wait only for their junction with Buell's Army of the Ohio to begin their long planned advance into the heartland of the Confederacy.

Then suddenly the spring morning is shattered by the rattle of gunfire and the piercing rebel yell of over 40,000 charging Confederate soldiers. The battle is joined and the fate of the west hangs in the balance. Can you as General A. S. Johnston drive the Union invaders from Southern soil? Can you as U.S. Grant rally your forces and halt the rebel onslaught? You'll never know until you've played Fury in the West'.

Fury in the West is a realistic wargame played on an attractive five color 22 by 28 inch Mapboard with over 230 colorful extra-thick die-cut counters that accurately represent the opposing armies. This game enables you to refight and study one of the least understood battles of the American Civil War.

Fury in the West is one of the most accurate wargames of its kind. Each detail has been pain-stakingly researched in order to achieve strict historical accuracy. The system has been extensively playtested to ensure a fast moving, delicately balanced and exciting game.

Rules cover such important facts as leadership, bayonet charges, gun boats, long range artillery, formations and facing and many more. An innovative yet simple system enables players to record casualties and stragglers of their individual units.


24 SEP 2011
The module is now available for download. Things to know ...

All Counters are in the Strength Record Charts.

All Markers are accessed via the Markers button on the main toolbar.

This game has not been playtested as yet. Please email me your results/problems/comments etc.

....scotty
Screen Shots
Players