Module:Hammer of the Scots
From Vassal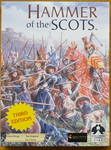 Files
Module Information
| | |
| --- | --- |
| Maintainer | shilinski |
| Contributors | shilinski |
Comments
Columbia Games: Scottish Wars of Independence
For rules and more information, visit Columbia Games Hammer of the Scots. When you run the module, pull down the help menu to see the HotS players guide, which explains how to use the module.
version 8. 3/21/2016. Someone pointed out that two units were mislabeled, so I fixed that. Since I was updating the module, I also made other improvements to bring it in line with other later block modules I've made.
version 7. 3/15/2010. New map and other small improvements.
Q. You're supposed to draw half (round up) of the draw pool for the English levy. In the module how do you tell how many are in the pool?
A. You don't. Deal out the blocks into two piles and take the first pile. It will have the extra block if there are an odd number. Discard the other pile to put them back in the levy pool.
Screen Shots
Players
ForestGreenHobbit
Darcy Burgess
shilinski
gamingguy
lugosi76
MedievalBanquet
cwmassey
CarlN0130
Jonny
jwboone62
Wargamer777
arakis
lrenn
Burkhalter
baub64
Ogreking
motoi
pzlehr
Coinflip
daveted
ges
SimmyP
keith
KevinRohrer
Malloc
sludge
czmielon
tiggerkat
biffo
mowglee
wga
XSiberia
timspin
carnifex
malbersado
jitesh
rmanns
sedecula
hdrestr
Muzza
lesulm1
JoelCFC25
onibaloney
gittes
Clandaith
daxelos
Salamon
nickd
vmi1983
DerDiplomat
rhammond
valkray
knoel
ubirata
Awfki
Liverbirds
Madeuce36
DrJambo
luc30
zaxor0
JoelCFC25
mortificator
lj1983
PROPUGNATOR
joacofe
Salar
czmielon
LordBeric
yankeeap
gittes
billgoode
MikeO
Hal752
peteywa
notchback
Tulfa
charlescab
Clandaith
Xatori
Asyncritus
darzininkas
theimann
Myrdin
J6A
John L
Bindusri