Module:Hannibal: Rome vs. Carthage
From Vassal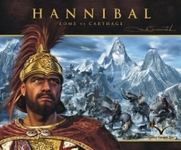 Files
Module Information
| | |
| --- | --- |
| Maintainer | unknown |
| Contributors | glocko, Josevik, Alham, zmpouf |
Comments
Valley Games Edition - Contributed by zmpouf.

Version 1.3.1 (by Spotlight2001)

Fixed: Roman player may only see Roman hand. Carthage may only see Carthage hand.
Added: Button to switch player side with one click. Hotkey: Strg+s
Added: Hotkey for Autolayout: Roman Strg+3, Carthage: Strg+4
Version 1.3 (by Spotlight2001)

Added: for "hand" there is an "autolayout" button
Added: dice withdraw -> 4 dices: ini + withdraw + cancel + attrition
Added: dice avoid battle -> 2 dices: avoid + pursue
Added: this is controversial: for easier single player game, each hand is visible and editable for both sides. i know this might be stupid for multiplayer. one might accidentally press the hand button
Version 1.2

Added: Siege Points to Tribes.
Added: multiple die roll buttons for proper reporting.
Added: Notes window. New scenarios offer information through the Notes window.
Added: Charles' variant Scenario.
Version 1.1

Added: Siege Train marker, Truce event, Discard pile cards list, charts, rules summary, detailed strategy card list.

Fixed: wrong command names, Battle Cards placement.

Improved: Province Calculation.

Version 1.0

This module is based on the new Valley Games edition. I have added proper reporting, province control calculation and minor other things that make playing the game easier. If you find any bugs or have any suggestions, just contact me.

English Version 2.0

Version Française
Module en version française du jeu Hannibal Rome contre Carthage édité en france par Descartes

Version Española Expansión
Modulo de Hannibal en version española. Es una versión extendida con las regiones de Mauritania. El autor es José Vicente. Hay los siguientes errores: la carta 26 es de 3 Ptos. Operaionales y movimiento naval; la 46 es de 3 PO y movimiento naval y a la 47 le falta el barco de movimiento naval. Por lo demás es perfectamente jugable.

Version Española
La versión en Español última tiene la estructura del módulo en inglés. El mapa está todo en español; los controles políticos, generales, iconos de ciudad y tropas son todos del módulo en español de José Vicente que eran más sofisticados. He cambiado el dorso de las cartas. El anverso está todo en español y hay un formato más chulo pero solo la primera (por ahora). Sobre todo he incorporado en el acceso a la ayuda varias pestañas con diversas fases del juego y por supuesto, las habilidades de los generales, todo ello en español.
Screen Shots
Players
glocko
jwboone62
Burkhalter
milazar
gyoung20
ScottK
Kitcat
RWN
SS
Kitfoa
jezarik
Burkhalter
Ogreking
Firward
Athos
markacres
sludge
Luccicante
ges
zatopek
allenwcu
RONNEMISE
casoli
odonkor
onibaloney
Noman
ArmedMedic
gittes
LordJesse
KevinRohrer
lpauperio
TommieSL
dcjackso
yams69
shmcbee
BScheuert
FubarAwol
Guilford
doctormabuse00
gwylie
daveyk39
karfer
xrubio
knoel
ubirata
Arlecchino
mickery
brandysta
hobnob
kwojtasz
PacoHolliday
SoloHobbit
John Longstreet
daxelos
Agitator
mortificator
rhammond
daxelos
bdg
ChristopherA
Hieron
Rindu
gittes
MJW
billgoode
luca67
Preacher
ScottMayne
asgar777
daxelos
Saufeius
keithl4170
notchback
Tulfa
Reio
ColtsFan76
Alham
Alberto
Superbuj
junglexpert
Bira
Edgar
Arnaud
alek
pacheta
casoli
Josevik
pacheta
AndresRodriguez
odonkor
mickery
Saufeius
stanco
PROPUGNATOR
Richmond
Batei
dangermike
zmpouf
kipchak
Tinto
Paul-E
Kevin Rohrer
etopp62
Bomilcar
davidk64