Module:Here I Stand
From Vassal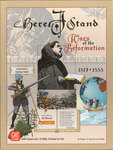 Files
Filename
Filetype
Size
Date
Compatibility
Developer
Other Contributors
3.1
Here_I_Stand_500th_3.1.vmod
Module
10.84 MB
2022-06-05
3.6.7+
JoelCFC25
Comments
Important: This module is not compatible with games begun using earlier versions of the module. Play ongoing games to conclusion using the module version with which they were started. Ensure that all players in a game are using an identical version of the module or you are almost guaranteed to experience problems.
Before you start, please read "How to Use This Module" in the Help menu (also accessible from "Module Help" in the Player Aids toolbar menu) for tips that explain the module's features.
For module changelog and older versions, see the module discussion page.
500th Anniversary Edition version 3.1
New Features
Automatically return eliminated squadrons from Turn Track to the force pool on turn advance
Markers for turn effects (Printing Press, Thomas More, etc) removed on turn advance
Rearranged power cards to match impulse order (IMPORTANT: do not mix and match module versions because of this!)
HTML added to reporting
Fixes
Fixed Council of Trent auto-addition to deck
Resolved English Protestant spaces VP error
Managing Control Markers
Screen Shots
Players
alfonso
LordJesse
Jatian
daveyk39
CDRodeffer
TKaz84
ColtsFan76
JoelCFC25
PacoHolliday
VonBrunt
cornjob
ChristopherA
alsandor
Bluekingzog
greatredwarrior
Renaud
Hal752
daxelos
jeb123
MikeO
Rindis
brederic
jayouzts
Athos
jll1024
Petroszak
BrianH
RiverWanderer
michaeljyoung3