Module:Illusions Of Glory
From Vassal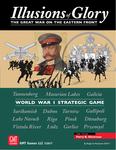 Files
Module Information
| | |
| --- | --- |
| Maintainer | Joel Toppen |
| Contributors | Joel Toppen,Gabriele Callari |
Comments
Version 1.5.5 updates the Heavy Fire Table with the latest changes and restores the Solitaire/Referee side.
Version 1.5 updates five cards as published on the GMT site, and adds a second Allied and Central Powers side to play with four (or even three) players.
Version 1.4.4 removes some duplicated counters.
Version 1.4.2 updates Reinforcement overview and adds card counts.
Version 1.4 updates cards and charts to the 2nd edition and adds some zoom options.
Version 1.3.3 updates cards and charts to the latest revisions and makes forts (both besieged and destroyed) visible if stacked with units.
Version 1.3.2 makes trenches visible if stacked with units.
Version 1.3.1 revises some cards.
Version 1.3 updates the Player aid cards to the latest revisions.
Version 1.2 introduces the Player aid cards and updates the module with the latest errata. You can find Neutral forces in the Setup Chart.
Version 1.1 fixes the bug of the missing CP Total War cards, and the misplaced CP Removed Cards deck.
Illusions of Glory VASSAL Module Instructions
1. The module is pretty straight-forward, not many bells or whistles as far as automation goes.
2. Units not found on map at start of the game can be found in Force Pool windows; Markers are in the Markers tray accessible from the toolbar button.
3. 'Draw Card' buttons in player hand windows will... You guessed it! Draw a card! Card options for the beginning of the game (per 4.2.1 and 4.2.2 of the rules) are pre-positioned in player hand windows. Players should choose which card they wish to start with, then drag the unwanted cards into their DECK (top right and bottom right of main window).
4. DECKs are set to auto-shuffle.
5. Using the 'Return Action Markers' button on toolbar will return the action markers of both players to their starting stack, and order them from 1 on top to 6 on bottom. How nifty!
Screen Shots
Players
Joel Toppen
wga8888 <Bill Thomson>