Module:Invasions: Volume 1 – 350-650 AD
From Vassal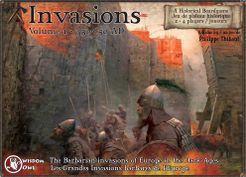 Files and Module Information
Comments
Original game designed by Philippe Thibaut V.1.5
Extensive Bug Fixing of previous version
V.1.4
Extra Scenarios Added
Player Sides Renamed
V.1.3
Improved visibility of borders on the map
Fixed counter Ermanaricus
Added Elite Inf. Lombards
Added markers Heresy.
Added marker Siege (for convenience).
Added counters for Events/Calamities: Dux, Dux 2, imperator, usurpator, Rebelio
Added Force Pool for each player. Visible to everyone, but managed only by the owner.
Fixed counter Limes Danuvius/Italia
Setup for 350 AD SCENARIO – I
V1.2
Added control markers
Added hide pieces button
Added Notes tool
V1.1
Fix bug with makeup off the Pillage draw pile.
V1.0
Added chart button
Added pillage draw pile
V0.2
Initial Implementation of the core game
Does NOT include Into the East or Before The Invasion
Artwork used are from the publisher. Creation of this module has been endorsed by the designer.
Screen Shots
Players