Module:Iron and Oak
From Vassal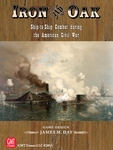 Files
Module Information
| | |
| --- | --- |
| Maintainer | Joel Toppen |
| Contributors | Joel Toppen |
Comments
GMT Games 2013; James Day Design
MODULE STATUS:
1. Currently the module does not have any scenarios built in. Contributors who want to create scenario setups may do so and email them to Joel Toppen for incorporation into the module. Be sure to Resign and become Observer before saving the file.
2. Navy Yard cards have been added.
3. Ship Yard windows enlarged for campaign game play.
4. Notepad added.
5. Missing pieces added. No, there's no "Exit" counter. I fail to see the need for one.
Screen Shots
Players
Joel Toppen
John Longstreet
Hank Burkhalter