Module:Kriegbot
From Vassal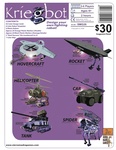 Files
Filename
Filetype
Size
Date
Compatibility
1.1
Kriegbot.vmod
Module
8.31 MB
unknown
unknown
Module Information
| | |
| --- | --- |
| Maintainer | GJK |
| Contributors | GJK |
Comments
Copyright Sierra Madre Games, Matt Eklund
12/7/08: Kriegbot updated to v1.1. Changes/updates include:
    *Removed the reporting of pieces moved to the unit templates.  This preserves the "secrecy" of Bot layouts (be sure to "Conceal" the Weapons and Systems after placing them on the template.
    *You can now place a 'Disabled' or 'Damaged' marker directly on a Weapon or System by right clicking and selecting the appropriate menu item or by keyboard shortcut ctrl-X and ctrl-Z.
    *Added a Turn Tracker to keep track of the turn number.

To do:
    *Ability to right click and place a marker on the Drive and Power Core locations.
    *Would like to be able to mark counters (Bots on the map) with an "Attack Used", "Defense Used", "Electric Used" marker or indicator.

12/5/08: Kriegbot v1.0 released.
Screen Shots
Players