Module:L'Art de la Guerre
From Vassal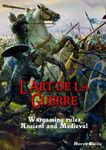 Files and Module Information
Comments
Based on the wargaming rules written by Hervé Caille, 3rd editon. These are for ancient and medieval periods, 3000 BC to 1500 AD. Graphics graciously provided by Geoff Curran (https://www.wargamevault.com/product/274242/Ancient-and-Medieval-Wargame-Counters).
Alternate AJSP for AdlG Version 4.0 Edition Notes and Thanks
Special thanks to El Creator for having his blessing on using his QRS and to the guys from Junior General (https://juniorgeneral.org/) for letting me using their graphics.
About the module a lot of the effort was made on reducing the need for measuring things. This was accomplished with automatic area drawings and keys movements based on UD
Screen Shots
Players
Original Version
---
---
AJSP Alternate Version
---
Carlos Lopes
Eduardo Santos
Ilídio Almeida
Orlando Almeida
Rui Silva
Tânia Almeida
---