Module:La Granja
From Vassal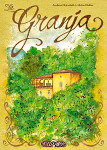 Files and Module Information
English
Filename
Filetype
Size
Date
Compatibility
Developer
Other Contributors
1.1
La Granja v1.1.vmod
Module
30.96 MB
2016-07-27
Vassal 3.2.16+
Dulgin
Extensions
Filename
Filetype
Size
Date
Compatibility
Developer
Other Contributors
1.0
La_Granja_v1.0_Promo.vmdx
Extension
2.42 MB
2016-07-04
La_Granja_v1.x
Dulgin
German
Filename
Filetype
Size
Date
Compatibility
Developer
Other Contributors
1.1
La Granja v1.1DE.vmod
Module
33.04 MB
2016-07-27
Vassal 3.2.16+
Dulgin
Extensions
Filename
Filetype
Size
Date
Compatibility
Developer
Other Contributors
1.0
La_Granja_v1.0DE_Promo.vmdx
Extension
2.43 MB
2016-07-04
La_Granja_v1.xDE
Dulgin
Comments
In La Granja, players control small farms on the island of Mallorca. During the course of the game, the players try to expand their farms steadily into the mighty country estate La Granja. They also seek to deliver goods to the village. Here, speed is everything.
La Granja is a fascinating game that requires careful planning. Successful players must learn to cope with the imponderability of the dice and cards as well.

The Promo-Extension are the 6 promotion cards which become available with the realese of the 2nd edtion of La Granja.

Please send me feedback if you find any bugs in the module design or have suggestions for improvement.


For module history and older versions, see the module discussion page

Update v1.1
Fixed bug if cards returned to player hand from the player board
Reporting some more movement informations for pieces
Adding new card menu options: send to the different places on the player board
Screen Shots
Players