Module:Leaving Earth
From Vassal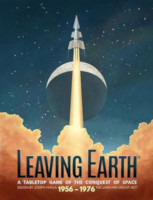 Files
Module Information
| | |
| --- | --- |
| Maintainer | Bridger |
| Contributors | gipyls |
Comments
1.7 adds the missing 4th "Moon" tile (the one which would destroy space ships if they land on it).
Click the white button with the "?" to get help on the mod's automated functions.
If you find any bugs send me a message on BoardGamegeek.com - Username: Bridger

NOTE: THE VERSIONS WITH AN "a" SUFFIX ARE AN ALTERNATE VERSION WITH THE "Q W E R" HOTKEYS CHANGED TO "CTRL+Q/W/E/R" FOR PEOPLE WHO NEED TO COMMUNICATE USING THE LOG WINDOW.
Screen Shots
Players