Module:Legions of Darkness
From Vassal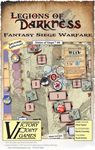 Files
Module Information
Comments
Legions of Darkness is a solitaire, fantasy States of SiegeTM game where you must survive the relentless attacks from ghastly creatures and monsters for three days and two nights - when reinforcements arrive.
Version 1.0 This is the first version of a fan made Vassal module for "Legions of Darkness". This Module contains the Base Game plus the Expansion.
© 2011 VPG. All rights reserved. Included by permission of the publisher.
Please support VPG!
Players