Module:Lock 'n Load Tactical: Heroes of the Falklands
From Vassal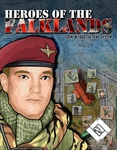 Files
Module Information
| | |
| --- | --- |
| Maintainer | Trent Garner |
| Contributors | Gabor Venczel |
Comments
Heroes of the Falklands brings you to the windswept, rocky landscape of the Falkland Islands—or Islas Malvinas, as they are known by the Argentines. The brief but brutal war in 1982 began after the Argentines unexpectedly seized Stanley, the capital of the Falklands, and the island of South Georgia from small garrisons of British Royal Marines. The British government responded by sending a large naval task force to the South Atlantic to reclaim the disputed islands. Here, the fierce ground combat that occurred during the war is depicted as only the immersive squad-level Lock 'n Load Tactical Series can.
Version 2.3
New Module!! - Fixes for all known issues and corrected counters from the v9.0 errata document
Version 2.2
V2.2 MODULE - New features include 3D dice with die rolling sounds, plus counter movement trails, making it easy to track unit movement each turn. All reported errors have been corrected.
Version 2.1
V2.1 - Several hot-key fixes; removed unneeded wreck marker; remaining wreck counter is not affiliated; Crew counter added to vehicle right-click menu
Version 2.0
V2.0 - All new official hi-res digital maps and counters with rounded corners. Official module, made by permission of Lock n Load Publishing.
Thanks go to Vance Strickland and Gabor Venczel, whose original work this module is built upon. There are many differences, but you guys lead the way.
Screen Shots
Players