Module:Malifaux
From Vassal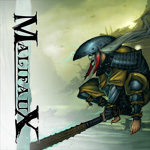 Files
Module Information
| | |
| --- | --- |
| Maintainer | Ratty |
| Contributors | katadder |
Comments
Based in an alternate Earth, Malifaux uses gothic, steampunk, Victorian horror with a dose of the wild west to inject fun and depth into the magical lawlessness of a world rife with monsters, necropunks, man-machine hybrids, gunslingers, and power-hungry politicos. Actively using character-driven stories to define the world of Malifaux, seek your fortune in this fast-paced and brutal 32mm tabletop miniature skirmish game. Assemble your crew and stake your claim!
I would like to thank Owan Conlan who got this project going, Benjamin Boyd who lent us his art assets, and all the playtesters who helped during development.
- Ratty
Wyrd Miniatures, Malifaux, and Catacomb Prowlers, all character names, their distinctive likenesses, and faction symbols are property of Wyrd Miniatures, LLC and © 2005-2021 Wyrd Miniatures.
Screen Shots
Players