Module:Melee - Wizard
From Vassal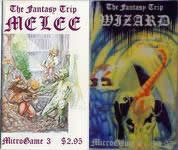 Files
Module Information
Comments
Duel with swords or sorcery in this combined module for both of the classic Fantasy Trip microgames, Melee and Wizard. On a hex map representing an arena, players fight it out with warriors, wizards, or monsters. Figures are rated for Strength, Dexterity, and Intelligence and can wage battle with various weapons or spells.
Death Test 1 extension
Has only been tested with solo (local) play. The Death Test extension is compatible with the 2.2 version of Melee/Wizard.
Screen Shots
Players
Mycenae
Deathrip
crito
domtate
ScottMayne
Fuhrmanator
raedwald
plateofshrimp