Module:Mistfall
From Vassal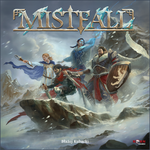 Files
Module Information
| | |
| --- | --- |
| Maintainer | gattsu |
| Contributors | |
Comments
Mistfall is a fully co-operative adventure game set in a fantasy world of mystery, eldritch powers and high adventure.
At the start of the game each player chooses a hero with a fixed deck of equipment and power cards, before embarking on a dangerous journey through a set of monster-ridden locations. Each hero also comes with a pool of advanced abilities that can be added to their basic deck during the game to customize and expand their powers. A variable board setup, randomized encounters and enemies, a simple but robust monster AI – all that makes for a game that is a varied and challenging experience both solitaire as well as with a group of up to three friends.
Gather up your resolve, check your gear and get ready to brave the unrelenting Mists. A world of perilous adventures awaits!
Version 2.0
Updated Base Game Assets (those have been really blurry)
Added a 2nd Player. Now 2 Player can play or 1 player controlling 2 Heroes
Ui Interface overhaul
Fixed several bugs
Version 1.0 This is the first draft of a Vassal module for the Adventure Game "Mistfall". It also includes the Expansion Heart of the Mists
Update of Version 1.0: some minor fixes and added the Heart of the Mist Rulebook.
© 2015 NSKN Games. All rights reserved. Included by permission of the publisher
Screen Shots
Players