Module:Napoléon 1806
From Vassal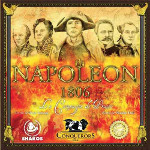 Files
Module Information
| | |
| --- | --- |
| Maintainer | Christophe Massaloux |
| Contributors | Daniel Berger |
Comments
Designers: Denis Sauvage, Julien Busson
Art: Nicolas Treil
Description: Napoleon 1806 is a game at the crossroads of history and simulation, the culmination of two history and wargame enthusiasts, Denis Sauvage and Julien Busson, who wished to share this passion with you. With Napoleon 1806, in 1 to 2 hours, two players will relive the clashes between Prussian and French at the heart of the imperial conquests of Napoleon the 1st, which culminated in the battles of Auerstaedt and Jena.
Napoleon 1806 is intended for wargaming seasoned grognards as well as for young conscripts who want to try a new playful sensation. Strategy, anticipation and decision are the engines of the Napoleon 1806 game system.
The rules of Napoleon 1806 are divided into three parts and can be learnt in fifteen minutes. The first one, called "Rules of the Conscript", allows to acquire all the notions of the game easily. The second, "Rules of the Grognard", brings more finesse including "fog of war". The last, "Rules of the Marshal", allows to play Napoleon 1806 in competition.
Will you meet the challenge of doing as well as the Emperor Napoleon or will you succeed in thwarting his plans at the head of the Prussian forces?
The module is posted with the kind authorization of Denis Sauvage from Shakos.
Version 1.1 corrects the Vassal error when drawing the last card from draw decks.
Version 1.2 adds the names of main locations on map (thanks to Dan for this improvement) and corrects the behaviour of the color cubes on the roster sheets.
Screen Shots
Players