Module:Next War: India-Pakistan
From Vassal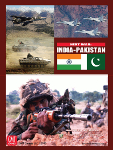 Files and Module Information
Filename
Filetype
Size
Date
Compatibility
Developer
Other Contributors
1.61
NWIP_1.61.vmod
Module
18.66 MB
2021-02-17
3.3.2
zhodani
zhodani
1.6
NWIP_1.6.vmod
Module
18.68 MB
2016-08-21
3.2.16
zhodani
zhodani
1.5
NWIP_1.5.vmod
Module
19.22 MB
2016-08-08
3.2.16
zhodani
zhodani
1.4
NWIP_1.4.vmod
Module
19.22 MB
2016-05-27
3.2.16
zhodani
zhodani
1.3
NWIP_1.3.vmod
Module
19.2 MB
2016-05-24
3.2.16
zhodani
zhodani
1.2
NWIP_1.2.vmod
Module
19.18 MB
2016-05-22
3.2.16
zhodani
zhodani
1.1
NWIP_1.1.vmod
Module
19.17 MB
2016-05-01
3.2.16
zhodani
zhodani
1.0
NWIP_1.0.vmod
Module
18.36 MB
2015-12-23
3.2.15
zhodani
zhodani
Comments
Version 1.61 notes Updated to fix mouse over scroll problem when using vassal engine 3.4 plus
Version 1.6 notes Updated to fix my last update where I made a mistake and messed up the Charts. Fixed now.
Version 1.5 notes Updated module with latest Chart update for Bridge destruction etc.
Version 1.4 notes Commonwealth units CF-18 had wrong reduced image as well as the Typhoon, this has been fixed and scenarios updated.
Version 1.3 notes Thanks to the sharp eyes of Alexandre Carmel-Veilleux I have fixed the following errors: ROI 18 Mech (X Corp), ROI 36 Inf(-) (XXI Corps), PRC 55 (47GA), USAF B-52H, these units where not reducing or missing image and have now been fixed.
Version 1.2 notes
IROP 26 Mech Division (XXXI Corps) was not reducing, this has been corrected.
Version 1.1 notes
now includes the Supplemental Alternate Air counters. These can be accessed by a button on the toolbar. Using them is simply a matter of right clicking on piles A and/or B and drawing out number needed and placing them on the open map button. Then you can right click on these counters to produce a menu to select where you want them to go etc. All Advance Scenarios have been re written to incorporate these new additions thanks to Pete Maidhof. Again any errors etc. are mine and if you find any problems feel free to let me know to correct.
Version 1.0 notes
First thing I would like to say that this has been a group effort to get this module off the ground. Without all the help the designer and developers provided I never would have been able to complete this module up to a decent standard. That said any errors contained in the module are my own and simply email me if you find any mistakes. I'll be only too happy to make the changes.
Some things you might like to know about module.
The number one and most important thing here is what to do if you accidently draw a ground combat unit you didn't mean to pull. All you have to do is left click on unit to select and then press Ctrl-Alt-shift-X on your keyboard, this will delete it. This was done this way as there are some marker units that should not be deleted as they get returned to inventory etc.
Game Record Track button on the tool bar will open...the Game Record Track. Everything on this map/chart has markers that move by you simply dragging them or right clicking on them to bring up a pull down menu so you can select where they go. If a marker needs to go below a value of 1, simply select return to inventory and it will stack it on the side of the track (you will see this).
More importantly on the Game Record Track is the sequence of play chart. To move this you simply click on the "Next Phase Box" and this will advance the clock. This will rotate all away around like a clock until it goes back to the beginning.
On the Tool Bar line is a button that is a grey scale picture of a combat unit. Selecting this will hide all combat units. This is so you can see at a glance what objectives are pending control OR are controlled to make it easy for you to find them and count up Victory points.
Any Marker on the main map or charts that you can't move by selecting and dragging, all you have to do is right click on them and a pull down menu will appear for you to move them up or down the scale/track line.
The hexes on the map are set up to snap to center hex and hex sides. Now other than snapping center hex drives me crazy but play testers wanted to be able to stack pontoon bridges on the hexes they actually crossed. So bare with me for doing so (meaning making it so counters will stack on sides of the hex). Now Pontoon bridges for your HQ's can be found in the pieces pull down menu for their appropriate countries. Simply select and drag them out when needed. Also the pontoon bridges have been built to rotate so you can lay them across the hexside of the Rivers.
That's all I can think of for now. Hope you enjoy the game and module.
Screen Shots
Players