Module:PanzerBlitz
From Vassal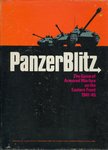 Files
Module Information
| | |
| --- | --- |
| Maintainer | Bill Thomson(wga), DDD Game Designs |
| Contributors | fermendzin, dennis jorgenson, wga, jw62, swampwallaby, Almogaver266 |
Comments
Module for Panzerblitz/Panzer Leader
Updated 140713 Version 3.5z02 (Michael Little)
Added four new expansion modules to provide additional map boards for Panzer Blitz and Panzer Leader. These map boards are from Ward McBurney, Douglas Swanson and Michael Little.
Updated 140418 Version 3.5z02 (Michael Little)
Added a new expansion module to cover the Winter Wars of Panzer Blitz. These 10 scenarios, updated by Alan from an article by Michael Bennighof in Issue #21 of the Grenadier magazine many years ago. Counters are from Ward McBurney and Greg Moore. More information can be gotten from Greg's website [1].
Updated 131124 Version 3.5z02 (Michael Little)
Counters and Map Boards are now from Ward McBurney with some counters from Greg Moore and a few counters from Michael Little.
Module and Expansion Module are both backwards compatable with the 070612 Version 3.5.
Note: It appears that the www.panzerblitz.org website is no longer up and running.

Updated 070612 Version 3.5 (Jeff Wise/Bill Thomson)
Graphicall scenario cards added for Standard scenarios
Standard scenario start files previously created by Steve Dell are no longer functional, will need revision.
See www.panzerblitz.org to join organized PBEM play.
Game information for Panzerblitz and Panzerleader
Module due for revision as was one of the first three modules. The Panzerblitz.com site is now defunct. Need some administrators to reorganize pbme play
Deluxe Version 1.0
New PanzerBlitz Module Available: File size is about 177 megs and has counter and map clarity never before available in a PB Vassal Mod. Module includes Counters and Maps from Imaginative Strategist. File is available from DDD Game Designs through this link [2]. File is known as PanzerBlitz Deluxe 1.0. A Panzer Leader Mod Deluxe version is available through this link [3].
Screen Shots
Players
Big AL (New recruit)
Bazlak
kb2ccd
dmsheppard1949
DMS
fermendzin
dennis.jorgenson
wga
DeadEye7
mmoore
Gyrene251
rickbill
wargamer55
sticktrader
hexghost
Muzzlehead
Davegman
bkindt
cmoeller
czmielon
elfkingsteve
Marquis
valhalla
Winston
shaughnh
jtcourtne
tanneraz
jw62
mmoore
Badger
MarkinSA
Wneptune
mansfeld
DeJevu
DeadEyeGunner
smaul1
usapatriot1963
Roydboy
glasper
AndrewC
robertino
deanolium
platoon29
ETgames
baub64
zhukov
oldgrog43
Markmd1959
PARADOX
Badger
ehoward777
stevenwbucey
ddmara
yangtze
SgtStinky
Bluekingzog
firefly
sabreman1966
Dynaman
marksheppard
JDWhite
kheferen
Razor
MadSeason
ay8306
Almogaver266
MCharves
PeteWC
FrighteningFred
nickd
Wheatchex
WmHumphrey
geofgibson
alaskaspi
Nomad
mgarnett
jejecass
Cartwright
ColonelClank
Byron
toltesi
jamin2kiss
Ballista
czmielon
destroyer1963
whitejd03
destroyer1963
Lachre
daxelos
pzlehr
ChandlerB
timothydowd
porkbelly
Panther 2010
kdm98
davidk64