Module:Pax Pamir (Second Edition)
From Vassal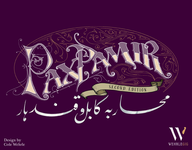 Files
Module Information
| | |
| --- | --- |
| Maintainer | Ben Kyo |
| Contributors | Nelud |
Comments
Cole Wehrle's game about power and politics in 19th Century Afghanistan.
Please refer to the html help file included in the module for more information, but to get started:
0. Players should choose or be assigned their colours in chat first.
1. Click the big "start here" button to open a setup window.
2. Select the player colours in the game, Wakhan and other options if required, then click set up.
A button on the Main Map toolbar can be used to automate end of turn cleanup.
Rule and dominance is automatically calculated and indicated. Ruler tokens are not displayed when no-one rules.
All pieces in the game have context-sensitive right-click menu options.
For more information on version differences and module development, see https://boardgamegeek.com/thread/2254907
Change Log
1.62
Added option to disable automation (except setup).
Added autodiscarding of Event cards from zero market spaces.
Added autoscoring.
Added automation for Confidence Failure: automatic discard when single card in a hand, and alert when more than one.
Added automation for leverage.
When playing with Wakhan, hid "radicalize" menu command that isn't relevant (left or right).
Added automatic card play (in random order) when exchanging hands with Wakhan.
Made reports from automatic events appear "color#2" (default green), and instructions for players (something that they should do manually) - "color#4" (default red), except impact effects, which are in bold black now.
Added Movement Trail to rupees.
Some minor toolbar and reporting changes, and a new helpfile.
1.61.2
Fixed cylinder's snapping feature so that while dragging onto Loyalty Dial it snaps to nearest gift space rather than cheapest one, except for Wakhan.
1.61
Added a huge "click here to start" button for new players
Added region priority indicators for Wakhan games. Flipping a new Wakhan card causes 1 to 6 dots to appear below the region names, to indicate 1st to 6th priority for Wakhan.
1.60
Update to Vassal 3.5.5 adds Alt-click "flare" indicators for easier communication - Hold Alt and click where you want to draw someone's attention.
1.59
"Dominance" bar added which shows who will score what, relative to other players, if a Dominance Check happened immediately.
1.55.7
The hidden and open hands versions of the module have been merged into one, and visibility of hands can chosen during setup.
1.35
Screen Shots
Players