Module:Pax Renaissance: 2nd Edition
From Vassal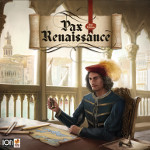 Files
Comments
This module is for Pax Renaissance 2nd Edition, released with permission from ION/SMG Games.
Please see the

window after starting a game for specific instructions.
Any feedback most welcome: please email me (Stefano Tine') or post on the Pax Renaissance 2nd Edition forum on boardgamegeek (I am user "barbanera" there, same as here on Vassal).

Release Notes:
1.0 (2021-05-24) - original version
1.1 (2021-06-01) - Release Notes
1.2 (2021-06-07) - Fixed ruling class setup not working in 1.1 and disappearing controlling players' shields in throne spaces after rotating the table
1.3 (2023-04-15) - Updated to work under latest version of the Vassal engine (3.6.15).
Screen Shots
Players