Module:Rifles in the Pacific
From Vassal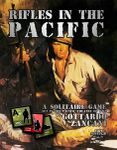 Files
Module Information
Comments
Rifles in the Pacific (RITP) is the second of Gottardo Zancani's solitaire RIFLES series (after Rifles in the Ardennes). Rifles in the Pacific recreates the sweaty-palms action that characterized the Pacific Theater in World War II in a unique single-player format. We have replaced the hex-maps typical of World War II games with three beautiful, yet abstracted maps, representing the Pacific Theater and allowing for endless battlefield customization.
Version 1.1 Fixed an issue with the Main Board. Tokens no longer disappear behind the main board.
Version 1.0 This is the first version of a fan made Vassal module for "Rifles in the Pacific".
© 2019 Tiny Battle Publishing. All rights reserved. Included by permission of the publisher.
Please support Tiny Battle Publishing!
Screen Shots
Players