Module:RoboRally
From Vassal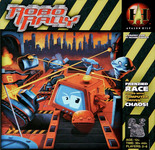 Files and Module Information
Comments
Version 2.0
Building upon v1.2, this version features improved graphics for all the boards, flags and bots. It includes over 35 boards from all the expansions in 2005 visual style with the ability to create any layout you desire. Predefined courses are included as saved scenarios. More information is in the Quickstart guide under the Help menu.
Custom boards can be added to the module by installing the custom boards extension above. More information is in the Help menu under Custom Boards.
Version 1.2
This is the first release of my new RoboRally module for the 2005 version of the game. It includes the first 20 boards only at the moment.
There are some notes in the help section but to use generally just right click of stuff - cards, life, damage and so on. To turn over the cards in the register use reveal. Simple (I hope).
An easy and quick setup without having to use a mapbuilder to play.
Let me know if you find any issues
Other versions
Options Deck has an issue and counters menu could use some love. If you can fix please feel free.(alpha)
0.2 and 0.3 are beta versions compatible with older versions of vassal.
0.1 has been totally reconstructed into 0.2 with new looks and features.
0.3 added full automation to make it easier to share your actions. Requires you to make your own map with included map building options which include the big gameboards and seperate single tiles. Known bugs are that sometimes you need to reconect and the game will continue as long someone stays conected, moving very fast for some reason can make you go diagonal and sending a program card to option card that you do not own will send it to that option, even if that option is in the option deck or discard pile, just click on the undo button to correct that mistake.
We all should thank Soldan for creating the Alpha. Without it I would not have been inspired to create a beta.
Screen Shots
Players
soldan
Bizzio
jstein
Angel40k
SteveV
psychojosh13
alexcobo
Metro
PaulRein
Clamoroso
Chaddt
yangtze
Hibiko
GornTC
scotty
starfish
IamGrays
WeldoVonSteel
Grainsmaker
Ratboy