Module:Rostov '41: Race to the Don
From Vassal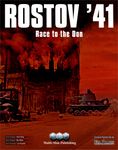 Files
Module Information
| | |
| --- | --- |
| Maintainer | Jim Pyle |
| Contributors | |
Comments
ver 1.30

ver 1.20
1. Updated map to as-printed version
ver 1.10
1. Upgraded to VASSAL 3.5.0
2. Made Arty Target markers work the same as Day of Days and It Never Snows
3. Added "Flare" trait to counters on map
4. Updated "HELP" button

Version 1.02
1. Fixed Weather Marker so you can see it.
2. Added a VP Hex Outline marker to easily track VP Hex ownership. (Need to Alt-click to select it)

Version 1.01:
1. Fixed "Send to Graveyard" counter menu selection. Need to use Tools/Refresh/Run selection from menu bar to update current games.
2. Fixed Turn track on map
3. Added weather marker that can be scrolled through to show current weather

Version 1.00 Initial Release
Screen Shots
Players