Module:Salerno '43
From Vassal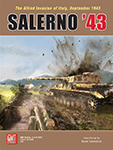 Files
Module Information
| | |
| --- | --- |
| Maintainer | Nigel Rabbetts |
| Contributors | Mark Simonitch, Myk Deans |
Comments
Salerno '43 is a regiment/brigade-level game on the Allied invasion of mainland Italy in September 1943 and uses a modified Normandy '44 game system. Design by Mark Simonitch.
Note for players: As the British 22/7A and German 129/15PG remnants are specific to a particular unit, these remnants are accessed via a second step loss to that unit.
v1.01: Minor corrections.
v1.02: Further minor corrections.
v1.03: Another minor correction.
Screen Shots
Players