Module:Samurai Blades and Map Buider
From Vassal

Files
Module Information
| | |
| --- | --- |
| Maintainer | unknown |
| Contributors | Gorodoff |
For additional info and files see also : Gorodoff 's files site
And give it a try with the Samurai Blades campaign module

14/10/2005: Now with anti-ninja mesures
26/09/2005: Now with ninja material and siege weapons
12/01/2006: Buildings with roof
08/02/2006: Now with Crusaders' Campaign armies
16/05/2006: Now with night / bad weather / infra vision blind game
16/05/2006: Now with Medieval Fantaisy armies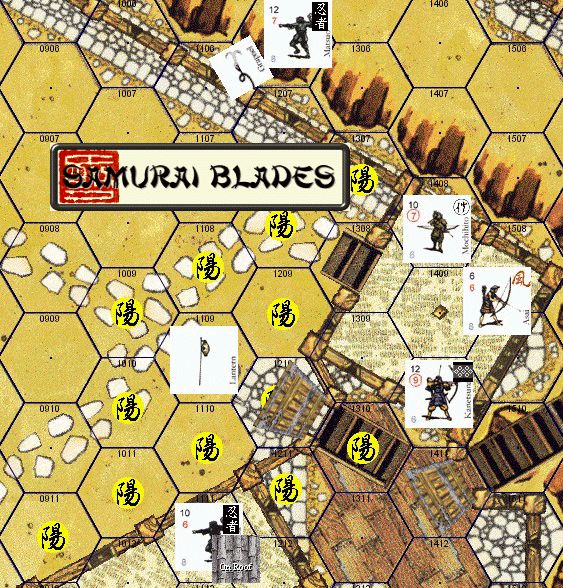 Comments
Acknowledgment
My thanks to the persons who contributed directly or indirectly to theses modules (Samurai Blades/Campaign) and extensions:
Alex Henderson
Beorthulf
Bluestone
Caranorn Aglaredhel
Elrindell/Vincent Foin
Eric Bertrand dit Popov
Hervé Tardy dit Buxeria
Jief
Joarloc'h
La Jacquerie
L'Ancien
Leondus
Marcos Hidalgo
Philippe Gaillard
Pierre Bercloz
Reanonyme
Scorion
Torsten Spindler
Victor of Drakkar
Vox Populi
and members of the CryHavocFan forum.

Many thanks to:
the authors of the Magna Carta
Fabrice Renier, author of 'Flêches pour archers chevronnés'
Alex Henderson, whose cryhavocgames site holds Bob Gingell's files
Claymore
Vae Victis
Jeux et Strategie team, author of the 'Temple de l'alliance' scenario.
Rules they designed were used or served as a base to those created.
Night and Day Play Testing:
Joarloc'h
Reanonyme
Santino
Vox Populi
(I just hope I did not forget anybody)
Players