Module:Sanctum
From Vassal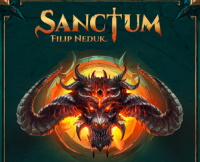 Files
Module Information
Comments
Sanctum is a competitive strategy game inspired by hack-and-slash RPG video games. Each player controls one of four unique characters as they journey into the heart of the fallen city of Sanctum, building up their skills and arsenals along the way to prepare for the final fight against the Demon Lord.
Version 1.1 several bug fixes -The dancer's abilities don't flip, with exception of "double strike" -instead Outlaw and Slayer player board, appear the Huntress board, and also the abilities are the ones of Huntress
Version 1.0 This is the first version of a fan made Vassal module for "Sanctum".
© 2019 Czech Games Edition. All rights reserved. Included by permission of the publisher.
Please support zech Games Edition!
Screen Shots
Players